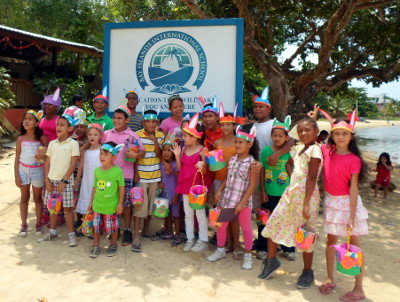 Accreditation with AdvancEd
Accreditation is a voluntary method of quality assurance developed more than 100 years ago by American universities and secondary schools and designed primarily to distinguish schools adhering to a set of educational standards. In recent years, accreditation has been transformed from an exercise centered almost exclusively on inputs to a research-based process for the comprehensive evaluation of an institution's effectiveness.
Using a set of rigorous protocols, accreditation examines the whole institution-the programs, the cultural context, the community of stakeholders - along with student performance data to determine how well the parts work together to meet the needs of learners. The process is fully aligned with the goals of school improvement that challenge educators to commit to continuously push beyond the line of current competence, to frame and ask new and deeper questions, and to realize more than the completion of a management plan.
Accreditation is an enriching experience for Bay Islands International School, because we benefit from the transformative power in the process. Indeed, it is not the outcome but, rather, the process of accreditation that yields the greatest return on investment for us. Honest self-evaluation of our vision, strategies, priorities, leadership, programs and resources against a set of standards and associated indicators is unparalleled in its ability to uncover and bring into sharp focus special challenges and opportunities that, when addressed, often lead to significant improvement.
When we engage in AdvancED Accreditation we will:
Unite with a global network committed to standards of educational excellence.
Earn the distinction of quality through the recognized seal of AdvancED accreditation.
Experience a unified, clear, and powerful accreditation process with a scalable and sustainable evaluation of education quality.
Receive external and objective validation of the areas in which they're doing well, and the areas for continuous improvement.
Benefit from AdvancED research that shapes educational policy and improves learning practices.
Experience a state-of-the-art web-based accreditation system that is continuously being upgraded and improved.
Hear the best available ideas and thinking on education practices and trends through innovative products, educational technologies, and the collective knowledge of peers. Benefit from shared expertise and powerful professional learning through local and global workshops, training, conferences, and personalized service.
Students and their parents will:
Experience ease in transferring credits from one school to another.
Gain greater access to federal loans, scholarships, postsecondary education and military programs that require students attend an accredited institution.
Benefit from their institution or educational system's commitment to raising student performance and accountability.
Certification by AdvancED comes with the attendant certification of all of the courses offered by Bay Islands International School by The North Central Association Commission on Accreditation and School Improvement (NCA CASI), Northwest Accreditation Commission (NWAC), and the Southern Association of Colleges and Schools Council on Accreditation and School Improvement (SACS CASI)in the United States.
Key Educational Concepts in Standards
All schools commit to rigor, equity, student engagement, and depth and application of knowledge.
All schools commit to developing learning skills, thinking skills, and life skills for all students.
The school improvement plan requires identification of goals for improvement of achievement and instruction.
The governing body operates consistent with established roles and responsibilities; must be ethical and free of conflict of interest.
Teachers participate in collaborative learning communities.
All schools have formal structures whereby each student is well-known.
Grading and reporting must be based on clear criteria for attainment of knowledge and skills.
Institutions have a student assessment system with local and standardized assessments, resulting in a range of data about student learning.
Professional and support staff are trained in evaluation, interpretation, and use of data. Schools must demonstrate, using data, growth in student learning, student readiness for the next level, and student success at the next level.